Release date: 21-Jan-2021. Prime 2.08 firmware is available for download now
Prformance and stability improvements:
Disabling selection of pad and spot in "Programming Mode" while using Exagon Sense
Fewer detection failures while plugging and unplugging applicators very fast and very often. Implementation of a new screen message for applicator initialization. No operation possible until all applicators are detected and assigned:


Application stability improvement, especially with longer sessions (no more unexpected drop-outs)
Failure message "Set all parameters" eliminated
Correction of several typos
The following additional function is now available:
Complete control and operating surface for Exagon Brain (incl. operation of 2 independent Exagon Brain systems in "Split Mode")
Be aware, that any firmware with a 1.XX version (you can check your version by simply go to "Settings" and then "System Information") needs to be upgraded to 2.00 prior to the upgrade of any version higher than 2.00! The reason for that is based on the fact, that we changed data separation from version 2.00 in order to speed up the update process and save time while uploading new files!
If you have upgraded to 2.08, DO NOT downgrade the firmware to 2.00 again. This may crash the system.
If you own a system, which is already updated to 2.00 or higher, you can skip this chapter and action!
Important Note: Make sure, that you have your activation code on hand, in order to reprogram all your iMRS prime options after the update process. You can find your activation code on your invoice. If you are not able to find it, please contact your respective country office, they will provide it to you!
Once firmware 2.08 has been installed, a new pop-up window will appear asking you to assign the internal speakers. This setting is necessary to prepare the iMRS prime for the Exagon Brain functionality. The iMRS prime will hereby automatically play a melody and ask you to confirm the audibility of the internal speakers. This step has to be performed initially only once as the iMRS prime will save the setting afterwards (it needs to be only repeated after a factory reset or a forced reboot), see also screenshot below: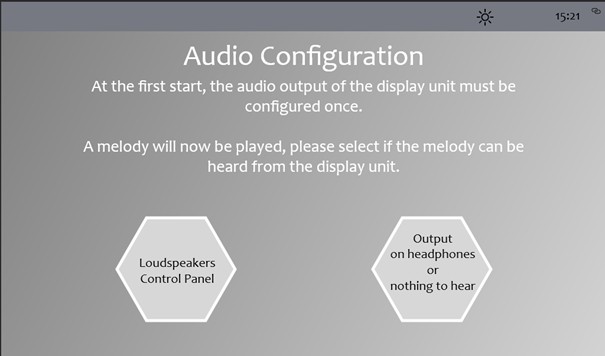 After completing this step, the iMRS prime is ready for use!
Potential Issues you may face after upgrading to 2.08
Due to some new features introduced in 2.08 in the applicators detection process, if your system gets stuck at the initializing applicators screen for more than 5 minutes. If you are facing this issue, please refer to this KB: https://imrsasia.com/kb/initializing-applicators-hang/ on how to troubleshoot the problem.